Andrea S. Klouse
Artistic Director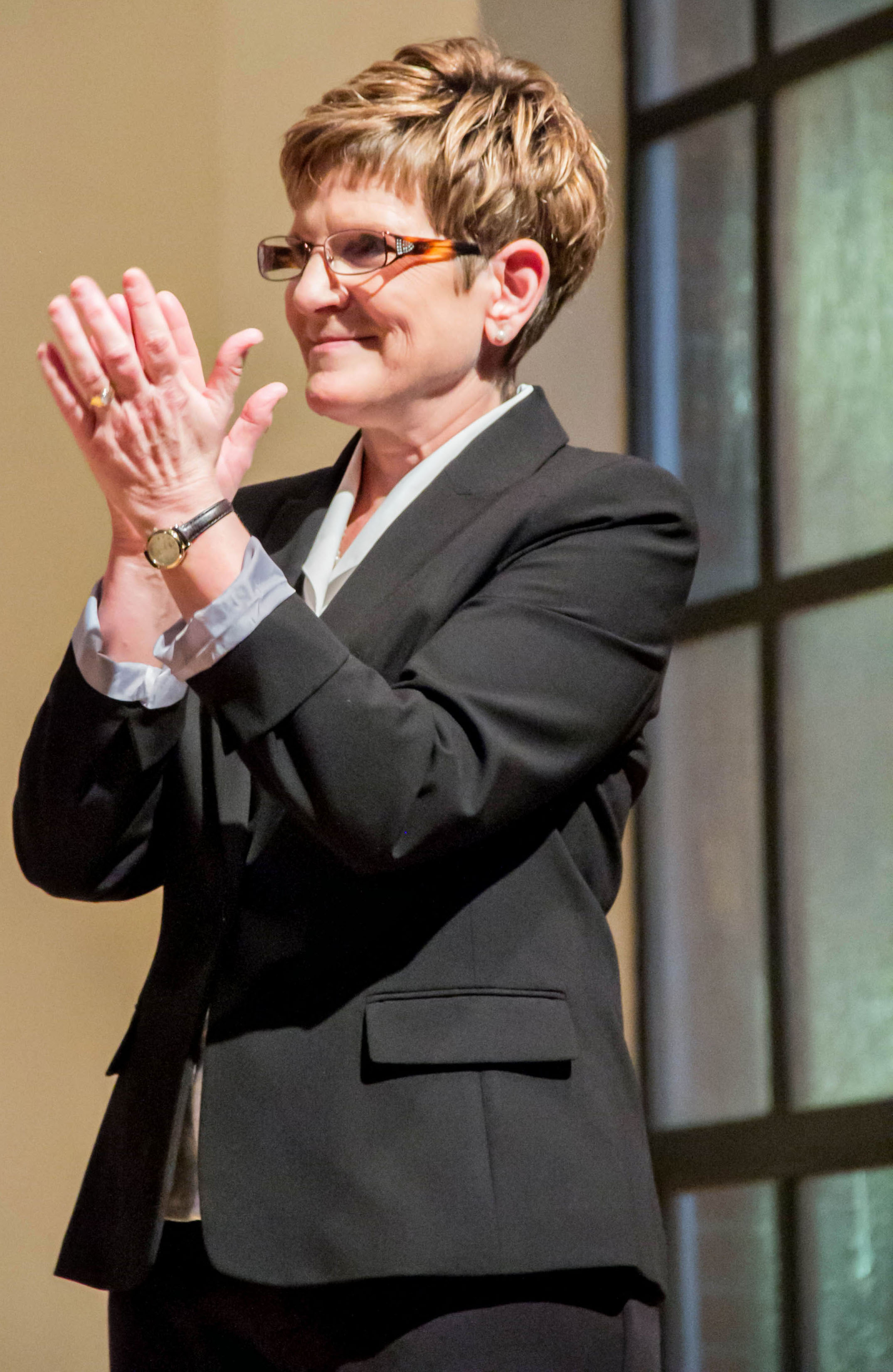 Andrea Klouse is an internationally acclaimed composer, conductor, educational clinician and 30-year veteran teacher in Washington state schools. Klouse earned her Bachelor of Arts in Violin/Voice Performance and Music Education. Currently, Klouse teaches at Graham-Kapowsin High School in the Bethel School District near Tacoma, Washington, just northwest of beautiful Mount Rainier.
Klouse was named 2005 Bethel School District Teacher of the Year. In 2003, she was a recipient of the Pierce County Arts Commission's Margaret K. Williams Award for Excellence in Education, as well as being named Outstanding Music Educator at the biennial convention of the Washington Music Educators Association (WMEA). Klouse's newest choral composition, published by Alliance, is entitled, "I Hear Sweet Music." This composition was commissioned by the WMEA for the 2004 All-State Chorus.
Klouse has conducted and performed in international festivals including: All-American Youth in Concert (Italy, Austria), Kathaumixw 1998 (Canada), Vesprehm "Vivace" Festival 2000 (Germany, Austria, Czech Republic, Hungary), and Idaho International Choral Festival 2001 (U.S.). In the summer of 2006, Andrea took her Vivace! choirs to the International Mozart Festival in Salzburg and Vienna as well as a command performance in Budapest, Hungary. The Cathedrals Choir also performed in New York City's Carnegie Hall in May of 2007. Klouse is an active adjudicator and presenter at educational clinics, workshops and professional reading sessions. She has directed numerous all-state and regional festival choirs around the United States.
---
Select Performance/Guest Conductor Venues
1990 All-State Featured Group Performance, Inaugural "Arts Time" Washington
1995 Kathaumixw International Choral Festival, BC;
1996 Georgia All State Guest Conductor;
1997 American Choral Directors Conference, WA
1998 Performance Group to Idaho International Choral Festival;
Klouse was named "Outstanding Educator" by WMEA;
1999 Vivace! International Choral Festival, Hungary and concert tour to Germany, Prague, and the Czech Republic
1999 Formation of the Vivace! Choral Program "in residence" with Bethel School District at Frontier Junior High: Vivace Kids, Vivace Mixed and Vivace! Consort Choirs
2000 FJH Concert Choir, WMEA All State Performance Group (Klouse also a session presenter)
2000 Georgia All State Guest Conductor.
2001 Vivace! Kids Camp, Vivace! "Cathedrals of WA" Camp and Concert Tour inaugural year.
2002 Oregon All State Choir, Guest Conductor
2002 WMEA All State (Klouse session presenter);
2002 FJH Consecutive Winner of the Best in the North West Choral Festival, Portland
2003 FJH Concert/Choir and Vivace Invited to Perform at the Kansas Music Educators Assn. Vivace Treble Choir performed with the Tacoma Symphony Orchestra and Choir Honegger's "Une Cantate de Noel" with Central Washington University in "Star Child" by George Crumb in Seattle's Benaroya Concert Hall.
2003 Vivace! Mixed Choir performed Schubert's Mass in G with orchestra at the Sumner Performing Arts Center
2003 Vivace Cathedrals Choir performed in Cathedrals from Seattle to San Francisco
Most recently, Andrea was named recipient of the 2003 Pierce County Arts Commission's Margaret K. Williams Arts Award for Excellence in the Arts
2004 WMEA commissioned a work from Andrea for performance in the WMEA All State: "I Hear Sweet Music."
Summer 2004: Vivace! Cathedrals Choir performed at the National Cathedral, the National Shrine of the Basilica, the White House, the Holocaust Museum and other sites in Washington DC; was headline choir at the Oregon Bach festival; Mt Angel Abbey Bach Festival.
2005 Bethel School District Teacher of the Year
2005 Alabama All-State Con ference Guest Conductor of SSA Choir; Birmingham Alabama
2005 WMEA Elementary All-State Choir
Recent Andrea Klouse Choral works published and established as keynote performance pieces in education:
Prayer of the Children (Warner Chappell)
Song for a Russian Child (Hal Leonard)
Kyrie (Hal Leonard)
Who Will Fight No More Forever (Based on Chief Joesph's Surrender Speech) (Hal Leonard)
I Leave You With a Song (Warner Chappell)
How Will I Go Without Ye? (Hal Leonard)
"I Hear Sweet Music," was commissioned by the Washington Music Educators Association for the 2004 All State Choir. The World premiere performance was on 2/14/2004 (published by Alliance Publishing Co).